Friday, January 29th, 2010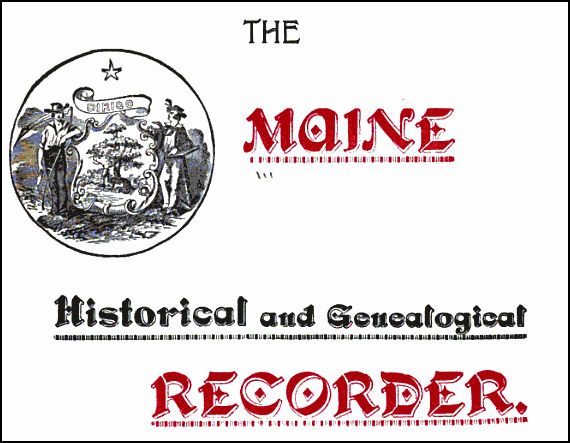 The Maine Historical and Genealogical Recorder is a wonderful resource for Maine researchers.  Volumes I-VIII are online at Google Books.
 Click on each Volume link to see a full table of contents.  Notes below are for my own research and are by no means complete.  If you want to include references to other subjects for your research, write a comment to this posting. 
King Family –  Captain Jeremiah Moulton's Scouting Expedition 1723 – The Founders of Maine By James P. Baxter – Merrill Family – Maine as it was in 1660 – Royalists and Puritans in Maine – Scarborough records
Berwick Soldiers 1740 – Cemetery Inscriptions Berwick – Col Alex Rigby – Sanford Marriages – Small Pox – Garrisons 1711 – Maine prior to 1620
Scarborough Records and Historical Sketches - Underhill's description of Maine 1637 – Indian deed Saco River to Kennebunk River 1664 – Records Portland and North Yarmouth – Embargo Sandford 1808 – Vaughn Memorial -  Indian truce 1693 – Seperation movement 1792 – Cape Elizabeth Records – Historical sketches of kittery – Merrill Family -  John Bray of Kittery – Petition of York and Wells 1705 -
Falmouth a sketch – John Bray of Kittery – Scarborough Records – Kittery a Sketch – Alfred Records – York County Gleanings – Eastern Claims -  Lafayette in Maine – Maxwells of Wells – Cutts Family a sketch
Biddeford Records – Tories in 1775 – Eastern Claims – Scarborough Records – Standish Records
Eastern Claims, Biddeford Records, Scarborough Record – Indians at Cuncheco 1676 – Standish Records
Biddeford Records – Eastern Claims – Scarborough Records – Indians at Wells 1702 – Kittery Records – Weare Family – Barrows Family
Alfred Records – Eastern Claims – Indian Relics in Maine – Indian Troubles – Kittery records – Pepperell Farms – Patriotic Women – Waterborough Soldiers