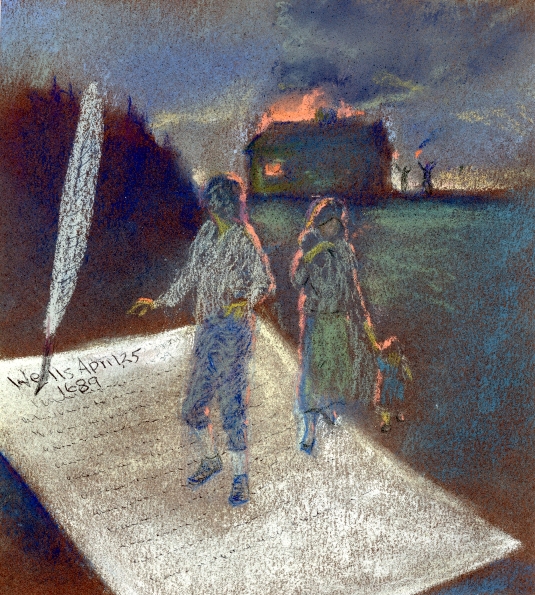 1688 Oct 11 –  Bussey and Barrow – Barrow may actuallyhave  been Barrett.  (see 1689).  A letter dated Oct 16, 1688, written by John Allyn to Gov Andros, refers to an attack at Cape Porpoise that took place on Oct 11.
1689  Apr  –  Attack at Stage Island Fort.  John Barrett was killed.  An Indian attack on Cape Porpoise is described in a desperate letter from Wells   "they came to Cape-Porpus burnt a house begun to be Garrisoned, belonging to Nicho Moorey slew one young man: uiz: John Barrett (whose father and two Brothers, were killed by sum Indians as is supposed, ye last fall)"
1703   –  Stephen Harding and his family fled their home in time to save themselves from an Indian attack.
The Durrell family upriver were not so fortunate.  Philip Durrell's wife and 4 children were kidnapped while he was away from home.  Mrs. Durrell persuaded the Indians to let her return home with her one infant son.  She was kidnapped again in 1726 and she , her daughter and infant granddaughter were all killed.
1713   –  William Larrabee's family was killed at his home near Butler's Rock.
1723   –  The Old Garrison House now stands in Cape Porpoise at the site of the earlier Major's Garrison.  White-haired Mr. Joseph Baily was scalped and killed by Indians there in October of 1723.   During the same month, two men from Huff's Garrison, Fitz Henry, and Bartow, being on Vaughn's Island for wood, were surprised and wounded by three Indians.  The Indians tortured the two men, trying to get them to reveal the number of men at the garrison.  The Indians killed them and threw their bodies into a creek on the island which still bears the name Fitz Henry's Ditch.  Also in 1723, Thirty women and children were sheltered at Harding's Garrison when Chief  WaWa of Great Hill and his men unsuccessfully attacked.
1724 Mar   –   Felt, Wormwood and Lewis were killed by Indians while loading lumber onto a vessel anchored on the Kennebunk River.  All three were killed with bullets.  Sergeant Smith, of the Cape Porpoise fort, was killed by Indians on March 23, 1724.  Bradbury says he was killed at the fort on Stage Island but the new fort had already been built.  Others say Smith was killed on Vaughn's Island.
1725  –  Mr. Huff's daughter was milking his cow near Huff's garrison when she was attacked by an Indian.  She knocked him down with her milk pail and made her escape to the house.  The same year, a boy was sent to Trott's Island to retrieve his father's cow.  When he didn't return another son was sent and then a third.  None of the boys ever returned.  The next morning their heads were discovered elevated on poles and seven Indians were tracked from Trott's Island.  A man was also killed by Indians at Goff's Brook in 1725.
1726 – Oct The Durrell family home was once again attacked by Indians on October 26, 1726. John Wheelwright described the attack in a letter he wrote to Boston the following day:
"Phillip Durrell of Kennebunk, went from his house with one of his sons to work, the sun being about two hours high, leaving at home his wife, a son twelve years old, and a married daughter with a child 20 months old. He returned home a little before sunset, when he found his family all gone, and his house set on fire, his chests split open and all his clothing carried away. He searched the woods and found no signs of any killed."
In his History of Kennebunkport, Charles Bradbury wrote of the horrible event:
"The Indians encamped the first night near where Sherburn's meeting house now is. In the morning, finding they were hotly pursued,* and Mrs. Durrell being lame and Mrs. Baxter not being in a situation to keep up with them, they cruelly and brutally killed them both. John, Mrs. Baxter's child, being rather troublesome, two Indians took it, one hold of each leg and dashed its brains out against a tree. They were killed near Duck brook. John Durrell was carried to Canada, and exchanged in about two years. He had however so far acquired the habits of the savages, that he ever after appeared more like an Indian than a white man. After peace was firmly established, Wah wa [Sagamore of Wells] used unfeelingly to describe to Mr. Baxter, the inhuman manner in which his wife was killed, and boast of his agency in her murder. Mr. Baxter's friends advised him to roll the savage into a well, as he was
lying intoxicated near its brink, but he refused to do it A bible belonging to Mr. Baxter, was left by the Indians, in the woods where they encamped ; and it was
found the next spring but little injured. The leaves were taken out separately and dried, and the book rebound. "